As today's manufacturing landscape keeps evolving with higher specs, better designs, and newer models, the competition is heightened. Consumers are getting ever more vocal about their buying decisions and product experiences with the help of endless social-media venues.
As a result, Customer Experience is becoming a hot commodity among manufacturers and consumers alike. Instantaneously, consumers are giving the edge to manufacturers who deliver exceptional customer service (a prime factor for winning customer loyalty). And at the center of it all is a high number of smartphone users that demand product support and services at their fingertips.
With this philosophy, Lumavate® focuses on five different Moments that define the customer experience from beginning to the end of a product's lifecycle:
The "Showroom" Moment
The "How To" Moment
The "Buy More" Moment
The "It Is Not Working" Moment
The "Trade-In" Moment
Lumavate has implemented these crucial product moments into a robust mobile based platform that helps manufactures deliver quick, relevant, and engaging media every step of the way. Our platform helps manufacturers excel at customer service like never before. Lumavate is a cloud based software provider that enables manufacturers to transform their customer experience into a positive journey through superior mobile engagements. Each of the five steps noted above influence customers' buying decisions from start to finish. With these moments in mind, Lumavate can help manufacturers increase revenue and decrease costs while building a more loyal and satisfied customer base.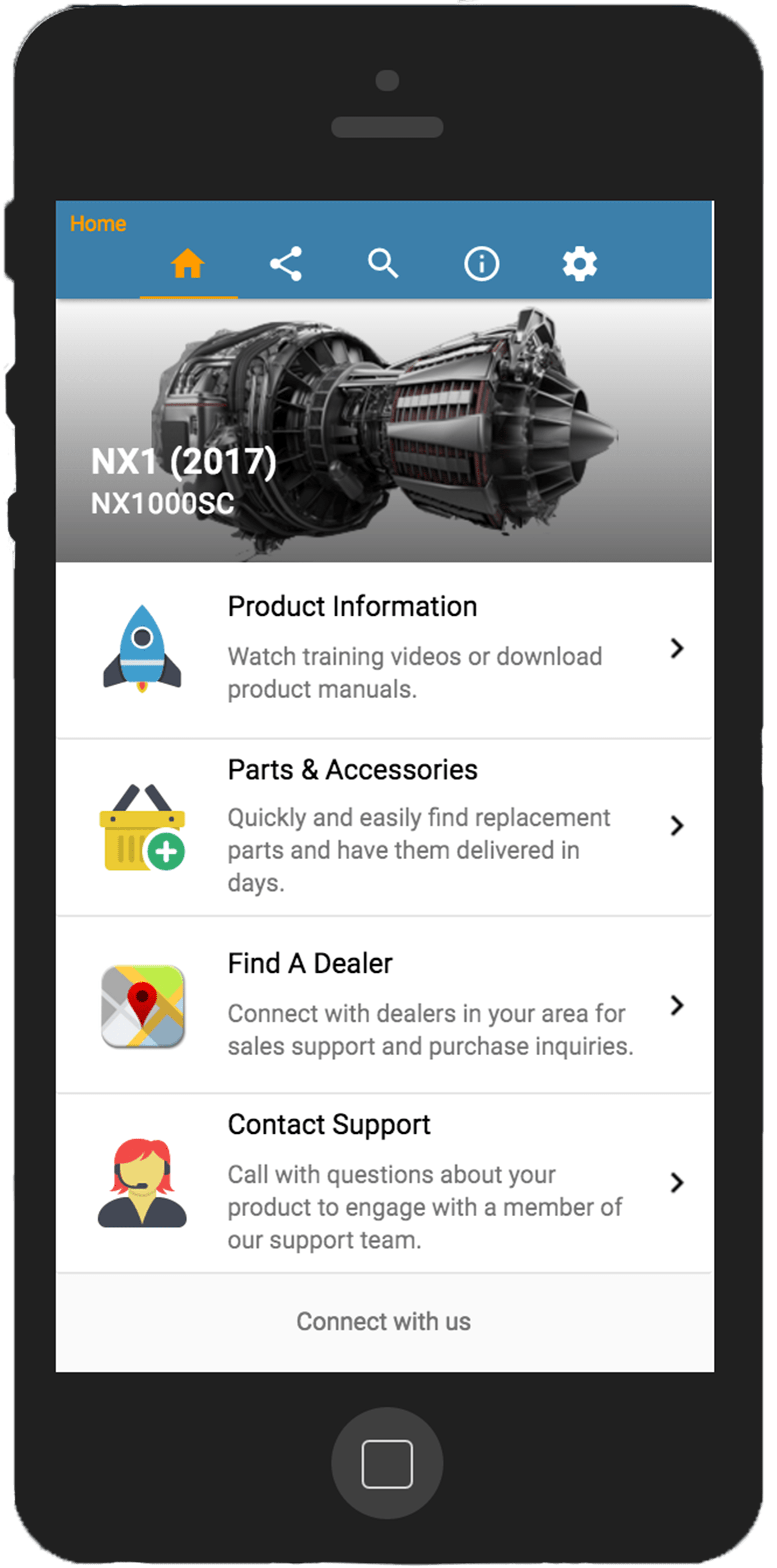 Using mobile devices as a delivery channel, Lumavate's platform connects customers with information specific to their model. It is comprised of helpful information required at all stages of a product's life-cycle. Customers have the ability to scan a Lumavate QR code or text a code on the product and access all the information that a manufacturer wants to provide. The information may include instructions on how to use or fix the product, order accessories and parts, contact the manufacturer…the possibilities are endless! While strengthening brand loyalty, Lumavate resolves these moments quickly and easily via cellphones.
This image shows a pre-generated mobile experience. It showcases several different aspects of the platform such as Product Information, Parts & Accessories, etc. Beyond the specific model experience that a customer may want to use for their exact product, manufactures can completely customize and brand the experience. Taking it even further, companies can link out to not only other products and add-ons but to their social-media pages such as YouTube, LinkedIn, and Twitter to solidify their brand image.
With the help of Lumavate, manufacturers can now easily implement and improve their mobile engagement strategies by putting more power into the hands of their end-users. By being readily available when customers need guidance the most, manufacturers improve the customer experience which in turn strengthens customer loyalty like never before!
To learn more about our 5 moments check out our Product page.